Welcome to Vision! This guide will help you set up your team to start using the new athlete experience.
Table of contents
Overview
There are three main concepts to think about when preparing your team: 1. groups, 2. users, and 3. roles.
Groups
Groups are a way to organize users within your account. Basically, they allow you to split your team into sections based on functions within a team, which allows coaches to better send content to sets of users based on what's relevant to them (i.e. sending shots on goal only to the forwards group). Instead of searching for each individual that content would be relevant for every time, groups allow coaches to pre-organize their team based on what makes the most sense to them. Some examples of groups include: forwards, offensive line, starters, etc. Each team is free to set up their group hierarchy however makes the most sense to their organization, and can be as granular as necessary.
Important Notes
Users should be added to the lowest level group that makes sense for them and will automatically be added to all groups that are above that group in the hierarchy.

Anyone that wants to share content with a group will need to be in that group with a role that has publishing permissions (see roles below) to share content with that group
Some examples of hierarchies: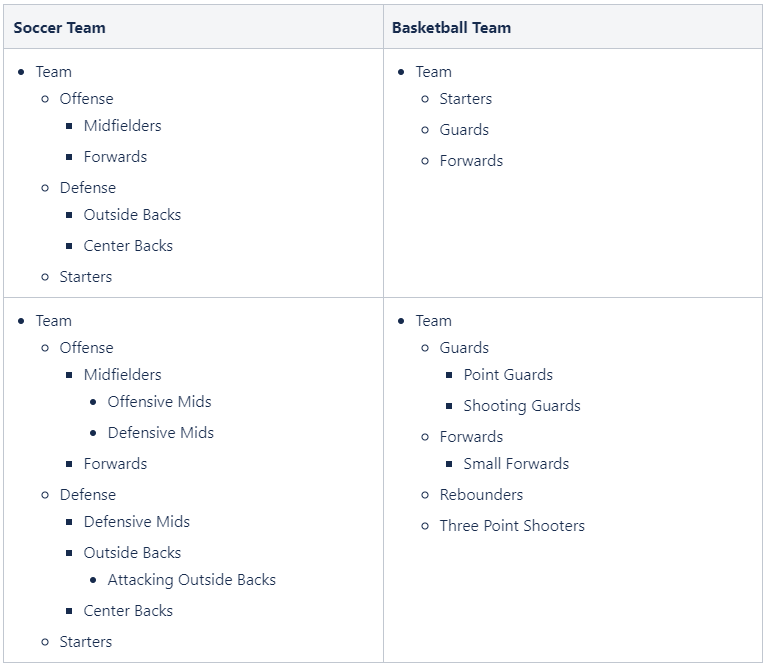 Users
Users are any individuals that require access to view or share content in the Vision Athlete experience. To onboard a user, you will need to provide the email address of that person. Users must be associated with groups in order to view or author content within Vision. The access a user has depends on the role they are assigned within a group (see below).
Flow Down User
This is a special designation where, when selected, the user is added to every group in the account with the specified role. Initially, the Flow Down designation will typically be used for a team's video coordinator who needs to be in all groups with top access to share video content with all players
Roles
Roles specify the permissions that a user has within a group. A user is assigned a role in the initial group they're added to and then roles are inherited up the hierarchy of groups. An inherited role can be overridden by a direct role change in a particular group, if necessary.
Roles include:
Admin - permissions to do anything with the system

Turns into a member role when inherited into the next level of the group hierarchy

Member - permissions to upload and share content with users/groups and view content shared

Stays member role when inherited into the next level of the group hierarchy

Viewer - permissions to view content shared with user/group

Turns into a none role when inherited into the next level of the group hierarchy

None - no permissions

Stays a none role when inherited into the next level of the group hierarchy
Workflow
Add the group hierarchy for your organization to the first tab in the excel sheet

Hint: look at what you currently have set up in email lists or text chains

Add the list of player and staff emails that you want to onboard to the second tab in the excel sheet

Give each user a role

Athletes should be given the member role

Any administrators/coaches can be given either the admin role or member role
Determine who the flow down user(s) is (most likely whoever is filling out the sheet)

Determine the lowest level group(s) a user belongs to

Users are automatically added to all higher groups

In the example in step 1, adding a user to the midfield group adds them to midfield, offense, and Portland Thorns FC

Adding the user directly to offense, though, only adds them to offense and Portland Thorns FC

If a user plays both midfield and center back, they should be added to both groups with the requisite permissions and will inherit permissions up both parts of the hierarchy

Send your filled-out excel sheet to vision@catapultsports.com and we'll get you onboarded