Vision Exporter Guide
OpenField to Vision
January 2020
Before you Begin
Prior to importing any wearable data into Catapult Vision, it is important to note some limitations with the import, and some crucial steps to ensure that your data is imported into Catapult Vision correctly.
Ensure that all players you are wishing to import into Catapult Vision are

added into each period of the session (PIP)

Ensure that

Gen2 Velocity and Acceleration effort detection

 is active on your OpenField account - seek advice from your Catapult contact.

Ensure that you have done a

Full Sync

on your OpenField account

Ensure all devices are

mapped correctly

to an athlete
Steps to complete in

Openfield

:
 Download the data from your Catapult devices ensuring the Activity is edited to start at the beginning of the match or training session and the athletes are added into the correct Periods.

Perform a 'Fast Bake' on the activity (Right click on the Activity Bar in the OpenField Console > Bake Activity > Fast Bake).

 Full Sync from the OpenField console to the OpenField Cloud.
Steps to complete in

Vision Exporter

:
1. Select the appropriate server for your region: 
          https://eu-visionexporter.catapultsports.com/ (EMEA)
          https://au-visionexporter.catapultsports.com/ (APAC)
          https://us-visionexporter.catapultsports.com/ (US)
2. Sign in using your OF Log in Credentials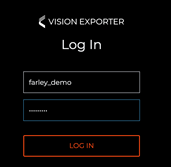 3. Select the date, activities, periods, and athletes for the session you wish to bring into Catapult  Vision: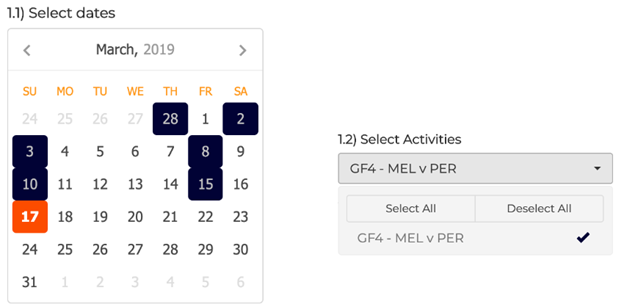 4. Select your sport specific metrics / algorithms if applicable to the event you are importing: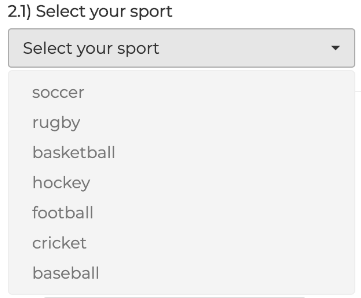 5. Select the events you wish to import into Catapult Vision. You must set a pre / post roll on each of these efforts. For example, a pre roll of -3 seconds (as per the screenshot below), and a post roll of 3 seconds will bring in a video of 6 seconds in duration, 3 seconds before and 3 seconds after that effort occurred. This goes for the thresholds you set on your efforts too, for example (as per the screenshot below) any IMA efforts below 2.5 will not be imported into Catapult Vision. All events must have at least 1 second of duration to be ingested into Catapult Vision.

6. Select the efforts you want to bring into Catapult Vision, following the same pre/post roll principles as step 5. The bands are the same as those applied in your OpenField account. These can be viewed in the OpenField Cloud > Settings > Bands.

WARNING - Users may see some performance issues when brining in excess of 2000 efforts/events into Vision. Users are encouraged to focus on a few key players and import key metrics that might of interest.
7. Select the alignment of you efforts into Catapult Vision. This requires the user to be aware of when they started their activity / periods in OpenField. There are different options to find a sync point for the wearable data and your video. 

Align to activity: This mode will not apply any offset of the wearable data and assume that your video file starts at the exact moment that you started your activity in OpenField.

Align to 1st Period: This mode will assume that the video file starts at the exact moment you started at the start of the first period you selected in Step 3.
You can preview the alignment at at time by clicking the eye logo.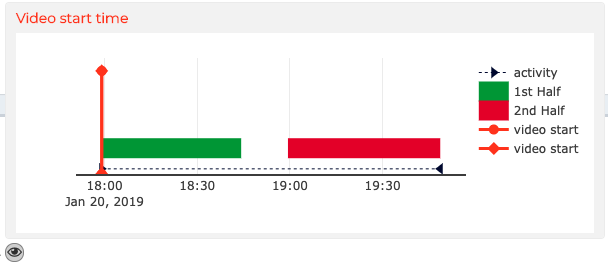 Manual Offset: This mode allows the user to manually add (or remove) an offset in seconds relative to the start of the activity. This will be the most common method of importing data - for example if I started my first period at the moment the ball-foot strike occurs in a Rugby Kick-off, I would select "Align to 1st Period", and if that kick occurs exactly 1 minute into my video file starting (often common due to early set up, match previews etc.) then I would enter -60 in the manual offset option. This would mean all of my clips would be imported from the moment I started my 1st Period, then be pushed to only start 1 minute into my video file. Ensuring all my clips are aligned throughout the match.

Manual Unix: This mode allows the user to manually add the unix time of the start of their video. This follows on from the first version of the wearable integration tool.

8. The user has 3 options to select how they want their clips to be trimmed when being imported into Catapult Vision. This is done so that only the relevant clips are being ingested into the software and not those that occur during between periods (e.g Half Time). For those users that are provided with separate video files for different periods of the game (for example first half and second half videos for one football match), they have the option to cut out the time between periods to help with alignment of clips.
No Clean or Trim:  This mode will not apply any cleaning or trimming to the data you are bringing in from your OpenField Account.


Clean Events:  This mode will trim time in-between periods but will not trim any time (good for users will a full match video wanting to exclude any data picked up between quarters or halves).

Trim in-between Periods: This mode will trim time in-between periods. As mentioned, this mode is appropriate for users that will be stitching their videos together in Catapult Vision and don't have the break in periods within their video file.

9. Process Configuration. The user has the option whether to bring in the player as a category within Catapult Vision and have all of the events and efforts attributed to that player as tags. Once imported into Vision there will be a timeline event per player. The alternative is to bring in the players as a 'Tag'. When imported into Catapult Vision each parameter will be shown as a category and the players as tags. The option the user selects will depend on how they want to interact with their clips in Catapult Vision.

You also have the option to set a max video duration which will help with any invalid events that might occur during a long activity in your OpenField account. The final option is whether to use the metric or imperial units for reporting.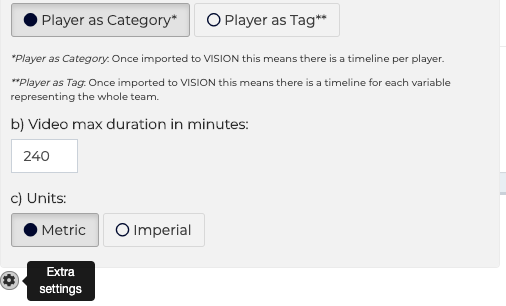 You have the option to preview your file and ensure that the CSV file you will be exporting looks correct and the efforts and events for the players you have selected have populated as expected.


Steps to complete in

Catapult Vision

:
Open Catapult Vision, load in your video file and any additional tags you wish to use in your project in the "Settings

" tab.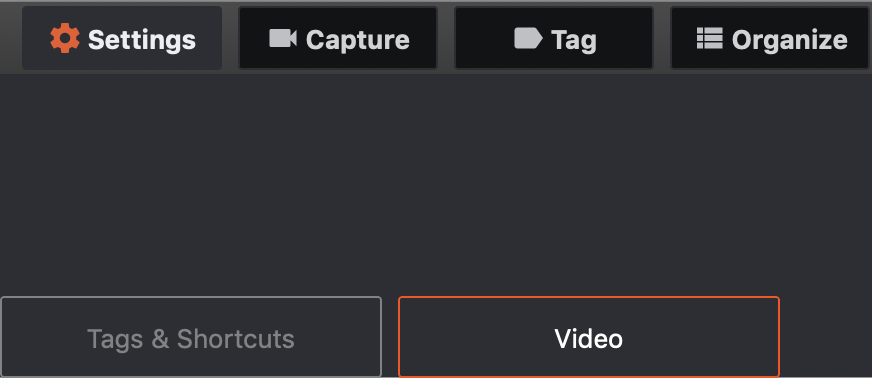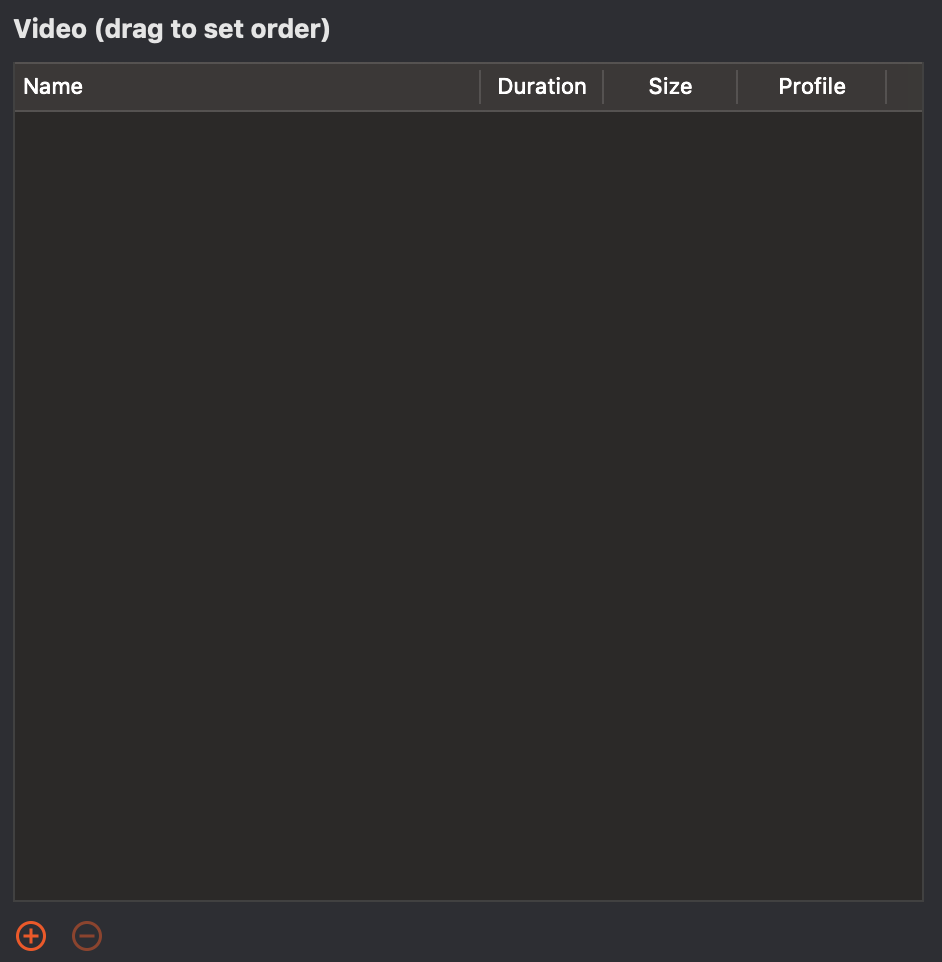 Select the "Tag

" tab

You will notice the option to click "File" in the Apple menu bar at the top of the screen. Scroll down and select "Import", then select "Tags from CSV

"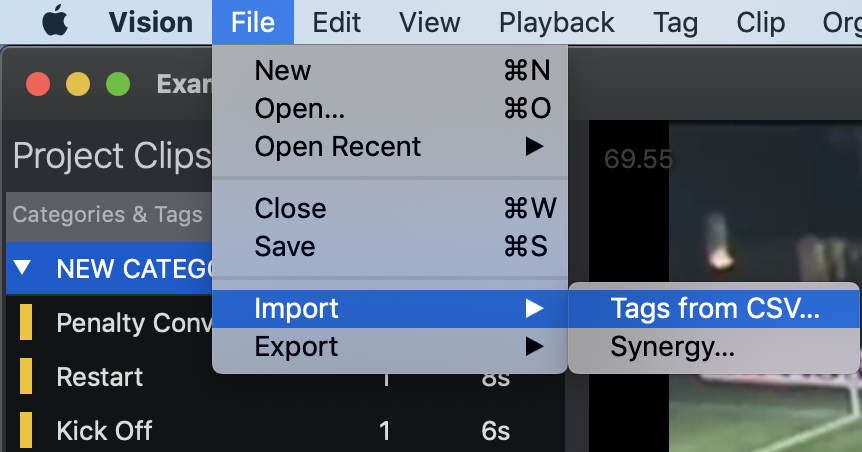 Select your downloaded CSV file, and your tags should import into Catapult Vision

.

Note: If the tags do not line up with the video, you have the option to offset them so they line up properly after they have been imported.
To do this, using the playhead, select a known instance on your timeline (a high acceleration, IMA event, a Jump event etc) that you can match up to your video.

Once on that tag, go to the apple menu bar, and select "Clip".

Scroll down to "Set Bump Origin at Playhead".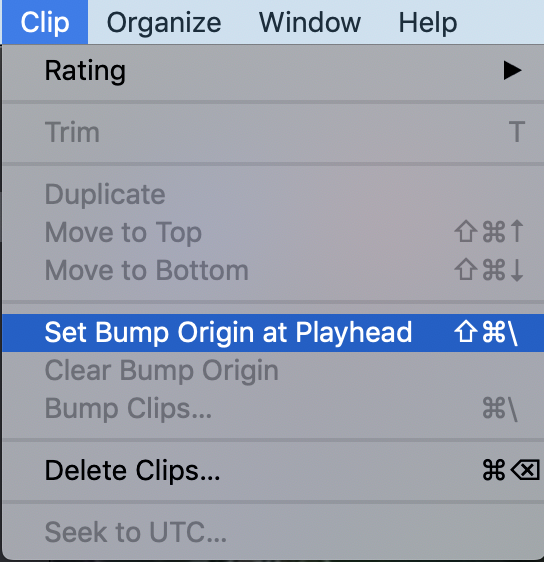 You will notice a white line appear on your timeline where you have set the bookmark.

Proceed to scroll forward or back to the point in the video of that known effort (player accelerating, jumping etc), and simply pause the playhead over that effort.

Go back to your Apple Menu bar and select "Clip", and scroll down to "Bump Clips...".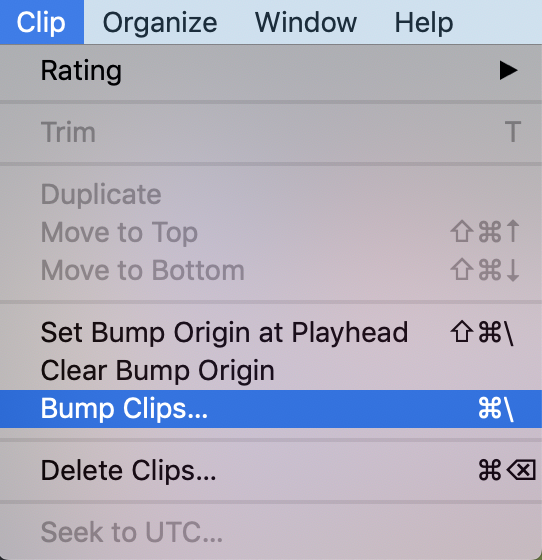 The user will get the option to select specific Categories or Tags to move. Alternatively they will have the ability to move entire groups of imported tags under the 'Imported Tags' tab.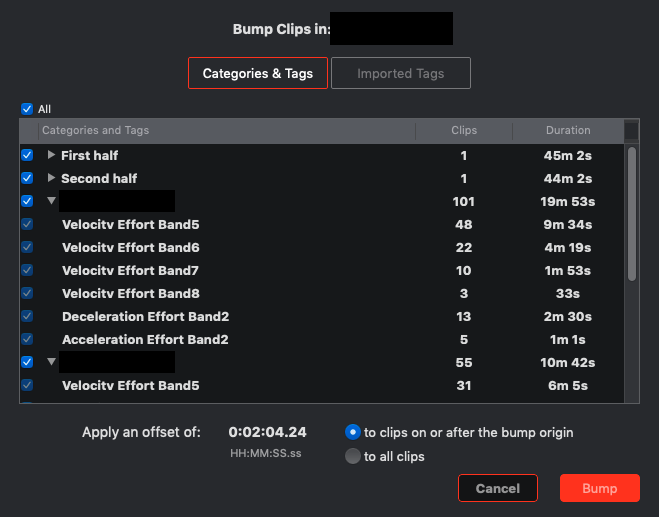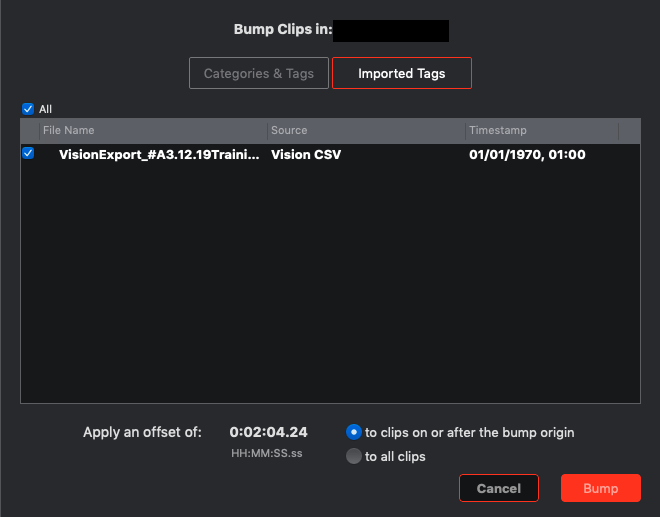 The user will get the option to move all of your clips, or just those that occur after the playhead either forward or backwards depending on where you have set your playhead.  

All of your efforts should then move on the timeline and be synced up properly.